Back To Menu
Starters & Tapas Plates
$11.95
"Chopped Salad"
Mesclun, Walnuts, Basil, Mint, Cilantro, Cranberries, Strawberries, Blue Cheese Crumbles, White Balsamic, Fried Onions
Grilled Marinated Chicken
+$9.95
Grilled 7 oz Organic Salmon
+$16.95
Barcelona Anchovies
+$4.95
Have you tried this item? Pop it!
Help other diners know what to expect by sharing your experience.
1 person has popped this item
Photo Gallery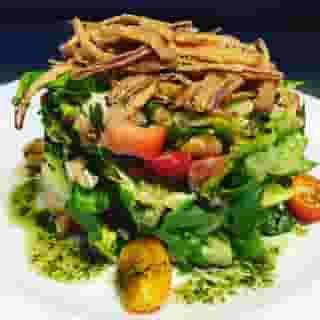 Back To Menu
Starters & Tapas Plates
$11.95
"Chopped Salad"
Mesclun, Walnuts, Basil, Mint, Cilantro, Cranberries, Strawberries, Blue Cheese Crumbles, White Balsamic, Fried Onions
Grilled Marinated Chicken
+$9.95
Grilled 7 oz Organic Salmon
+$16.95
Barcelona Anchovies
+$4.95
  Back To Menu